Cabins We're Lusting After For A Long Fall Weekend
Getting away for a long weekend is always in season. And since you can't really slip into a supersoft sweater and eat your weight in s'mores at the beach, scroll on for some dreamy cabins to get you under the stars and away from all the city noise.
Oak Leaf Cabin, Broken Bow, OK ($99/night): A weekend in Beavers Bend State Park, anyone? Take the entire family (yes, even the pup) to this gorgeous tiny cabin. It's nestled near plenty of trees for privacy, but still close enough to enjoy what the park has to offer. And yes, there's WiFi.
El Sol Cabin, Wimberley, TX ($155/night): In case you missed the memo, Wimberley is kind of *the* place to be right now. So take advantage of all the cute shops and restaurants that keep popping up and book yourself a romantic weekend away. This cute little cabin has all the comforts of home (plus a hot tub), is pet-friendly and only minutes away from all of the Wimberley shopping action.
Crater of Diamonds, Murfreesboro, AR ($125/night): This cabin is definitely one for the fam. This getaway cabin sits right outside the entrance to Parker Creek Recreation Area with swimming, boating, fishing, playground and plenty of trails. And if you're feeling lucky, Crater of Diamonds State Park (where you can search for and keep the diamonds you find!) is about 15 minutes away.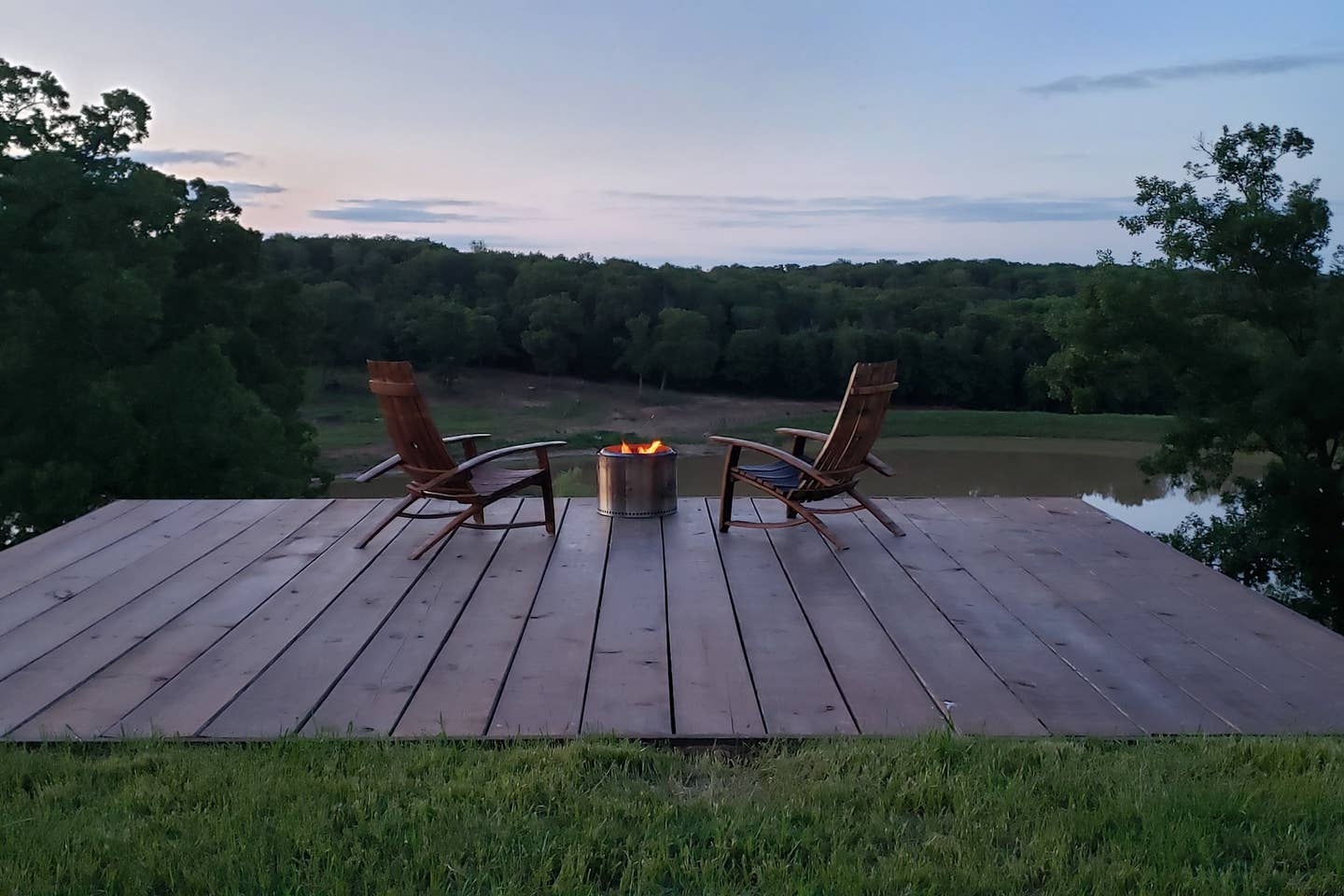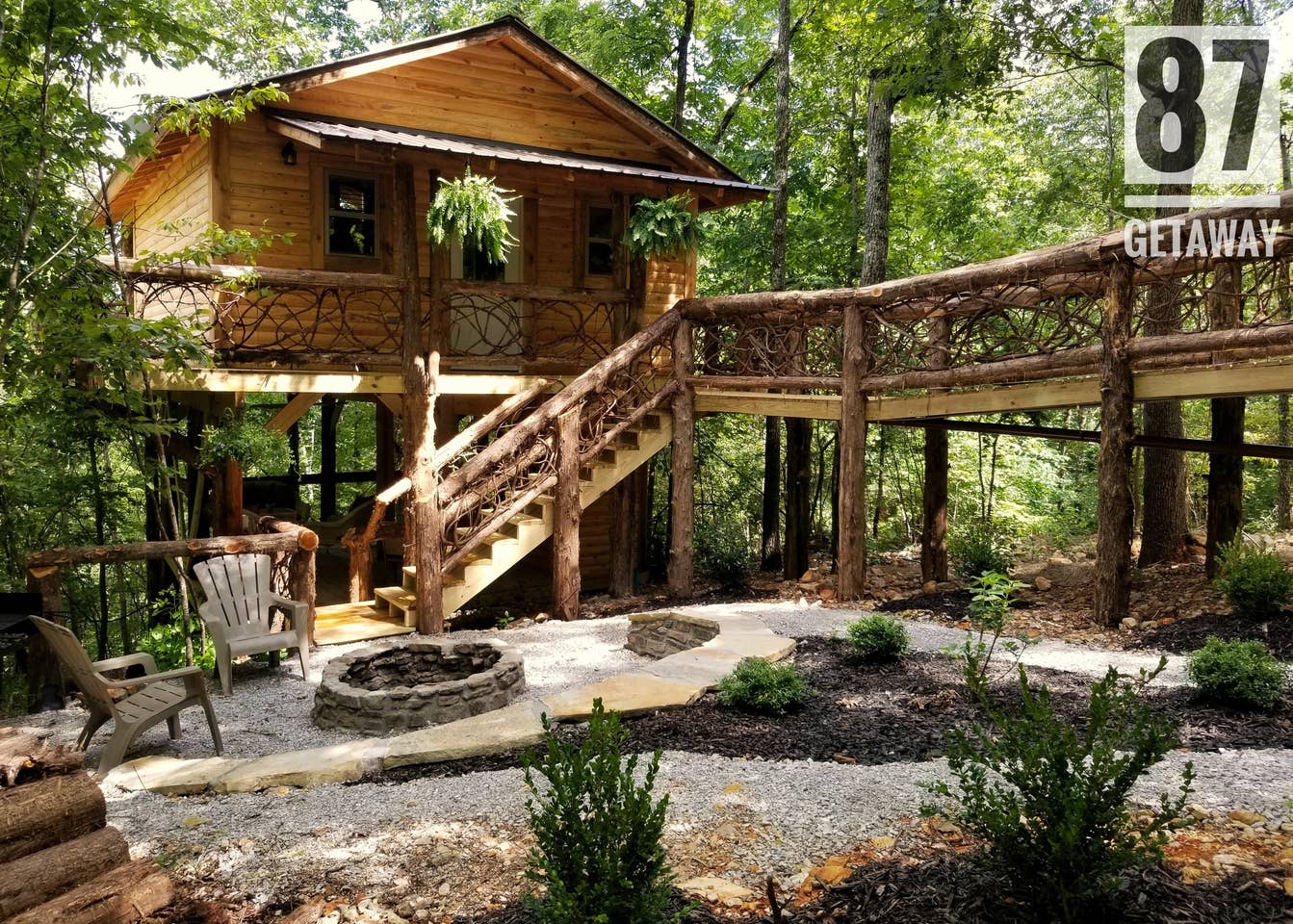 Little Bigfoot, Broken Bow, OK ($195/night): Need to take a weekend to unwind? You'll love this romantic spot, complete with an indoor soaking tub, hot tub and fireplace to help you get a little R and R. Oh, and Beavers Bend State Park isn't too far away, so when you decide to venture out into public, you'll have plenty to do.
The Cabin With The OK View, Denison, TX ($145/night): Don't let this modest description fool you—this cozy getaway sleeps up to eight people and offers up some stellar views without leaving the state. And also, the listing mentions plenty of critter sightings…
87Getaway Treehouse Escape, Mountain View, AR ($160/night): Cabins are great and all, but have you ever stayed at a treehouse cabin hybrid? Relax in the trees with a king-sized bed, jacuzzi, and plenty of A+ views. There's also a sleeper sofa for that pesky third wheel, err, friend.
Murray's Cabin in The Ozarks, Harrison, AR ($109/night): This vintage-inspired A-Frame is pretty much an interior enthusiast's dream. And the mountain backdrop is going to score you major points with your partner, friend circle, or anyone you've decided to treat for the weekend.
Springbrook Cabin, Hot Springs, AR ($275/night): Whether it's a family reunion or you just want a giant place alllll to yourself, this place houses up to 15 guests and a short distance from Lake Catherine State Park, Oaklawn and Downtown Hot Springs.
Modern White Oak Cabin, Garfield, AR ($200/night): Cabin getaways aren't for everyone, but the modern layout (and amazing windows) of this place is definitely enough to bribe the city dwellers away for the weekend.
The Tree House, Tyler, TX ($60/night): So it's not technically a treehouse, but it *is* a pretty stunning cabin in a remote, romantic setting. Spend some QT in the woods or venture over to Tyler for wineries, shopping and ya know… city stuff.